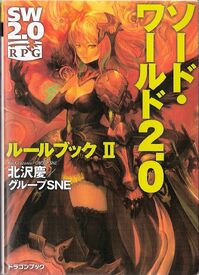 This particular page is to coordinate the efforts of those who plan on translating Book 2 of the Sword World RPG. As this appears to be a collaborative effort, it would be appreciated if a new translator did not copy the work of another. However, it would also be appreciated if any translation discrepancies and proofreading errors were pointed out, as fixing these would be of the utmost importance.
Book 2 Contents
Edit
Chapter 1: Player Characters
Chapter 2: Rules
Chapter 3: Data
Chapter 4: The World
Chapter 5: Game Mastery
Ad blocker interference detected!
Wikia is a free-to-use site that makes money from advertising. We have a modified experience for viewers using ad blockers

Wikia is not accessible if you've made further modifications. Remove the custom ad blocker rule(s) and the page will load as expected.